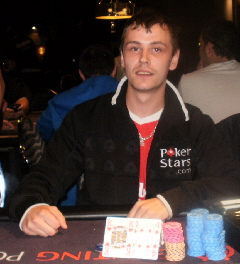 On Sunday 4th September Redtooth visited the Circus Caisno in Newcastle to host the North East regional final. 141 players would compete for eight cash prizes and six national final seats.
Craig Coates from the Magic Lantern in North Shields claimed the wooden spoon on the day as he made a swift exit. His exit only triggered more eliminations as Gus Cuthbert, the Cobblers Hall champion Adam Stott and Gary Snaith all headed for an early comfort pint at the bar. With only two of last seasons finalists returning, Grahame Meredith and Peter Britton, a very different final table was undoubtedly going to be formed later in the day.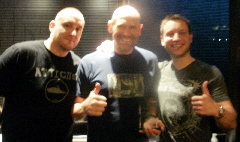 The Team Event saw a first time winner in the form of the Royal Tavern in Blyth. Ian Walker, Lee Walker and John Herron were the representatives on the day. And it was looking like the Royal Tavern were going to have a day to remember as Ian Walker made the final table as a comfortable chip leader and he was joined by…
Seat 1: Matthew McLean - Burn Inn, County Durham (10,000)
Seat 2: Ian Walker - Royal Tavern, Blyth (156,000)
Seat 3: Noel Ithurralde - Wheatsheaf, Darlington (37,500)
Seat 4: Gary Buckham - New Crown, South Shields (40,000)
Seat 5: Adam Trodden - Lingfield Farm, Middlesbrough (35,500)
Seat 6: Stephen Flynn - Three Horseshoes, Billingham (35,000)
Seat 7: Sam Peck - Myton House Farm, Stockton-on-Tees (57,500)
Seat 8: Mario - Corner House Hotel, Newcastle (129,000)
Seat 9: Keith Dobinson - Grey Horse, Penshaw (130,500)
Seat 10: Chris Doyle - Isabella, Blyth (87,500)
As the final table started a few of the short stacks were inevitably eaten up by the large blinds. Ian Walker's luck deserted him as he unfortunately bubbled the national final seats and hit the rail in 7th place. However, the £30 he received would pay for some consolation beers at his local. In what proved to be a long tactical final table, the heads-up match came down to two of our shorter stacks from the start, Stephen Flynn and Noel Ithurralde. The final hand saw both players see a tasty flop with Stephen holding K-4 and Noel A-Jss on a QTs4s flop. With all the chips in the middle, Noel knew he had a plethora of outs. But an off-suit 9 turn and 4 river sealed the deal for Stephen as Stephen Flynn became the new Redtooth Poker North East champion!
Cash Prize Winners
1. Stephen Flynn - Three Horseshoes, Billingham
2. Noel Ithurralde - Wheatsheaf, Darlington
3. Mario - Corner House Hotel, Newcastle
4. Keith Dobinson - Grey Horse, Penshaw
5. Sam Peck - Myton House Farm, Stockton-on-Tees
6. Chris Doyle - Isabella, Blyth
7. Ian Walker - Royal Tavern, Blyth
8. Adam Trodden - Lingfield Farm, Middlesbrough
National Final Qualifiers
Stephen Flynn
Noel Ithurralde
Mario
Keith Dobinson
Sam Peck
Chris Doyle
Team Winners
Royal Tavern, Blyth