---
---

---
RF: North West
02/03/2015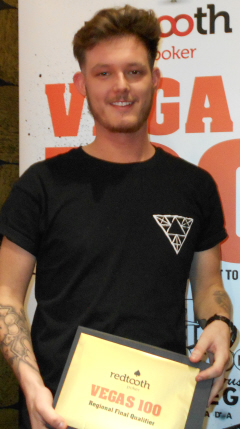 Results
1. Jonny Lockley - Spring Inn, Rochdale
2.
Anthony Quinn
- Victoria Tavern, Barrow
3.
Andrew Taylor
- Royal Hotel, Atherton
4.
Lee Saunders
- Red Lion Hotel, Bolton
5.
Danny Meers
- Old Leyland Gates, Leyland
6.
Katie Harkin
- Beaumont Arms, Bolton
7.
Manuel Atkinson
- Oxfford, Macclesfield
8.
Stuart Rotherford
- Lord Eldon, Knutsford
9
Phil Cott
- Brown Cow, Eccles
Manchester's fabulous Grosvenor Casino on Bury New Road hosted our North West regional final as one player would be leaving with a golden ticket into our Vegas 100 National Final in May. £500 in cash was also up for grabs along with a trophy for the best represented venue.
[More]

---
Season 1 - Week 5 Year 2015 - 2016
60 days left in this season.
There are Currently 180546 Players competing in pubs across the UK.

---
A great selection of online tournaments including
- Redtooth Tavern - Sun 2pm.
- Special Events...
Visit www.grosvenorcasinos.com/redtooth

---
Gareth Tomlinson is the UK Pub Poker Champion!